Jurassic World: Dominion Dominates Fandom Wikis - The Loop
Play Sound
Intro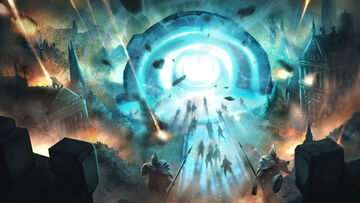 A long time ago, the world of Ashes of Creation was hit by a great calamity. The inhabitants of the old world, your ancestors, were forced to flee from their world. They fled through these great divine gateways.
Shortly after the inhabitants leaving their old world behind, the gateways closed and were sealed away - leaving behind a world of countless conflicts, dominating the land and remaining beings.
After the world slumbered for years, decades, eventually millennia, the people living in their new world have forgotten the stories and tales of their past.

Until now.
The forgotten, marooned gateways have reappeared from their ages of absence. They have risen back to the surface. The nations of the new world gathered adventurers, willing to go on a journey to rediscover the old, forgotten world.
They have begun to send expeditions through these portals, the great divine gates, to re-discover their past, their ancestors' legacy and eventually, a great new world for them and their successors.
You enter this vast and immersive world by coming through one of the four Great Divine Gateways, depending on your race. You come from world where magic is non-existant, where many nations and races exist.
Each race and nation coming into the world of Ashes of Creation has different goals and objectives they'll follow. You have arrived, too. You may rediscover, rebuild and repopulate this world of your acnestors.
Ancient treasures, forgotten tales, a vast landscape and new friends await those who dare to disturb the darkness. To rise again, to defeat the remnants of the evil that decimated your ancestors, causing the loss of your races past.
Your choices influence your very own story line. This narrative includes a group of central antagonists that drive the action, but you'll have to play the game to find out more about them![1]
References
Related